Good morning to all. Monday today and under normal circumstances, we would be looking a lot to find a game that is worth it, but this day contains perhaps the most talked about match in the world. Let's see some facts about the Manchester United vs Liverpool derby.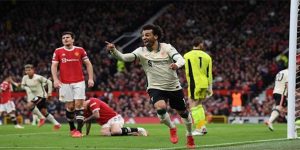 The two teams have so far charted opposite paths, the home side coming off a 4-0 crash at Brentford and seemingly not stepping well at all, with coach Tin Hag directly accusing the players of poor mentality and lack of concentration. Something seems to be changing with the huge transfer of Casemiro, but the "red devils" have a long way to go to become truly competitive.
MANCHESTER UNITED V LIVERPOOL PREDICTIONS
On the other hand, Liverpool started where they left off last season, won the first trophy of the year, the Community Shield against Manchester City, and despite the crooked first matchday in London with Fulham, it shows for another year that they will claim the championship on equal terms. Years later he lost Manet's valuable help but replaced him with the "bobber" Darwin Núñez, who has already begun to recoup his money.
Manchester United started with dreams this season, but the beginning seems like a nightmare. Their defense in the opponent's transition is very bad and inevitably Liverpool, with their super offensive weapons, will inevitably try to take advantage of it. The match, although a derby, I think will be very well paced and Liverpool's attack has all the backgrounds to pay dearly for United's defensive irregularities. Bet On Alfa offers to score the visitors in both halves in the outstanding performance of 2.10.